Knowing your ideal customer persona could revolutionise your lead generation!
Use our one-page template to nail your customer persona.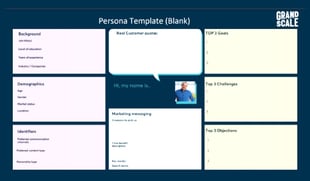 Start to get to know your Ideal Customer Persona today!
If you're thinking, we already know our customer profile, we don't need to map it out in detail, consider the following facts:
Companies who exceed lead and revenue goals are twice as likely to create personas than companies who miss these goals.

82% of companies using personas have created an improved value proposition.

Top performing companies have mapped 90% or more of their customer database by persona.

The use of personas increases email open rates 2-5 times.



Created by growth marketing experts
Grand Scale's co-founders, Roisin Garland and Leanne Jennings have helped companies around the world to launch, build brands, grow internationally, and achieve multi-million pound exits and high-profile stock market flotations.
Now they want to share their experience with you, to enable you to achieve the success you deserve.